1825
BRAY

William Bray born Cornwell, England about 1825 died 06/05/1882. Buried 08/05/1882 Moonta Cemetery Section East 12 Grave Number 60e. Age at Death 57 years. Married c. March quarter 1854 Elizabeth (nee George) Wearne born 22/05/1825 St. Agnes Cornwall, UK died 27/04/1886. Elizabeth is buried in the same plot as William. She was 62 years old. She was the daughter of William and Jane (nee Powell) George who married 22/08/1825 St. Thomas, Dudley, Worcester, England.

William and Elizabeth came to South Australia on the ship "Isle of Thanet" arriving on 24/10/1854.

Record of travel from the "Isle of Thanet"

Bray William aged 27 Copper Miner 168/3 Cornwall
Elizabeth (George) Bray aged 29
1844/5 John ( possibly Wearne) aged 9
1845/6 William B. ( possibly Wearne) aged 8
1848/9 Mary ( possibly Wearne) aged 6

These ages do not quite correspond with dates of birth but none have been varified with certificates. It has been said that the three children that came out from England were from Elizabeth's first marriage but they went by the name of Bray. More children were born in Australia.

1846 - 1865


As far as we can tell they had the following children:-

00/00/1846 - 00/00/0000 John Bray

00/00/1848 - 00/00/0000 William B Bray

00/00/1854 - 00/00/0000 Mary W Bray

07/06/1856 - 00/00/1900 Sarah Bray married 11/11/1876 Stephen Wellington

03/06/1858 - 00/00/0000 James Henry Bray born Kooring, Burra, South Australia, married 24/04/1889 St
Paul Evangelical Church, Gawler River, South Australia Bertha Augusta Pauline Roediger
born 18/02/1864 - 02/03/1890. Gawler River, South Australia. Married 06/06/1904
Charlotte A Clode.

30/06/1860 - 00/00/0000 Emma

00/00/1863 - 02/05/1865 Samuel Bray (age 2 years 3 months)

12/06/1865 - 21/08/1937 Samuel Bray, Born Wallaroo, SA, married 27/06/1901 Gertrude Florence Bowden
10/07/1876 - 27/06/1977. Married in Boulder Western Australia.



Next Generation 1902 - 1914


Sarah (Bray) Wellington and Stephen Wellington had the following children:

11/03/1877 - 00/00/1949 Harold Scoble Wellington

19/09/1880 - 13/04/1945 Eugene Lambert Wellington. Married 21/03/1923 Mary McGavin Kennedy in the
Methodist Church, Pirie Street, Adelaide. Mary was born 11/02/1894.

30/06/1884 - 00/00/0000 Walter Morley Wellington, married

20/03/1886 - 25/05/1978 Beatrice Rose Wellington aged 92.

09/04/1888 - 00/00/0000 Norman Bruce Wellington

05/05/1889 - 19/06/1960 Gordon Stanley Wellington married 1923 Ellaret Maria Drake born 1895 died
04/09/1977.

025/01/1900 - 00/00/0000 Ruby Sarah Wellington

11/04/1891 - 00/00/0000 Stephen Lloyd Wellington

04/09/1892 - 00/00/0000 Leonard Hartley Wellington

28/10/1894 - 00/00/0000 Gladys Pearl Wellington


James Henry Bray and Bertha (Roediger) Bray had one child:

01/03/1890 - 00/00/0000 Bertha Bray

Sadly Bertha (Roediger) Bray died in childbirth on 02/03/1890.
James remarried Charlotte Annie Clode. So far can only find 1 child:

17/03/1905 - 00/00/0000 Beatrice Mildred Bray married 13/04/1927 Henry James Reuben Mansfield.
15.04.1903 -



Samuel Bray and Gertrude (Bowden) Bray had the following children: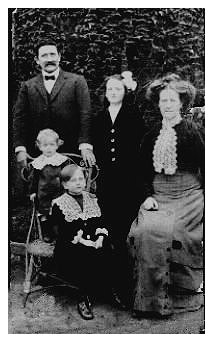 Here we see Samuel, Gertrude, Hazel, Dora and Frank. We know Samuel was a Blacksmith by trade and that they lived in or close by Kelmscott round the time Hazel was born. Samuel was also Secretary for the Roads Board of Kelsmscott and he is listed on the honour board as Secretary of the Roads Board Shire of Kelmscott 1898 then underneath is J. H. Bray (his brother James Henry) Secretary of the Shire Roads Board 1898-1899 the Shire started the Roads Board in 1894. James apparently took over from Samuel as Samuel's health was not good. The family was next reported in the Brookton / Beverley area where they lived for many years. This is where the children went to primary school. Frank did attend High School in Northam where he held a long jump record for many years.


I have been told that Hazel was the first to move to Merredin to teach music and the rest of the family move there later. Samuel passed away 21/08/1937 and is buried in the old section of the Merredin Cemetery. Gertrude, Hazel and Dora lived in French Avenue in Merredin until they passed away. Hazel used to play the organ at the local Church of Christ and Dora had a lovely voice often singing solo in Church. The were members of the Methodist Church first off and joined the Church of Christ when it was built.





00/04/1902 - 02/08/1974. Hazel Gertrude Thelma Bray. (did not marry.)

00/08/1907 - 09/04/1984 Dora Tresna Eunice Bray. (did not marry.)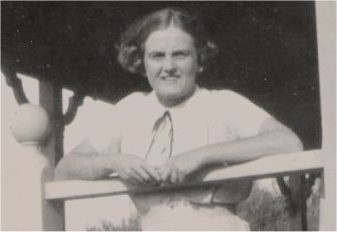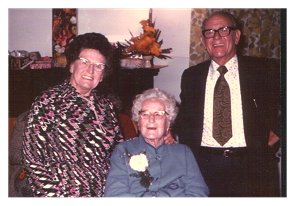 Dora loved to sing and she sang well. Here we see her in her younger days and also with Gertrude (her Mother on her 100th Birthday) and her Brother Frank. Dora worked for the Shire of Merredin in the office in her earlier days. She also sang in the Church of Christ choir. Dora loved to sew and made quite a lot of dresses for the two girls in the family. Carol and Joan. She also made dresses for Allyson her great niece. There is a story in the family that Dora was engaged or was about to be engaged to marry but her Mother put a stop to it as she wanted the girls to look after her. I don't know how true this is.




02/05/1911 - 14/10/1990 Frank Clifton Bray, married 04/04/1942 Muriel Elizabeth Williams.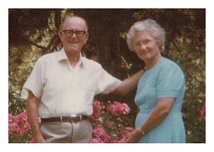 Frank grew up in Beverly Brookton area until he attended Northam High School. At one stage Frank held the long jump record at the Northam High School. He held this record for many years. He and younger Brother Les use to umpire football and travelled by motorcycle to and from different games. Frank was in the RAAF and was stationed in Alice Springs. Muriel was born and raised in Kalgoorlie - Boulder and attended Boulder Primary and Eastern Goldfields High School. She became a teacher and her first post was in Morawa, Western Australia. She met Frank in Kalgoorlie after she returned to teach on the Goldfields, they married and lived in Kalgoorlie for the rest of their lives. Frank owned and ran several businesses in Kalgoorlie - Boulder and Kambalda over many years mainly in the furniture, floor coverings and white goods lines. His first business venture was in partnership with Ron Regan and Norm Johns. They had a harware store on Maritana Street over the laneway behind the Exchange Hotel. One of their main products was Spartan Paint. They then went into the furniture business, Frank and Norm and purchased W.J. Lucas which was in Hannan street, Kalgoorlie with a long laneway down the left side leading to the rear of the Mechanic's Institute where they had a huge room full of furniture. Frank also had a furniture shop in Burt Street Boulder called Bray and Co., with Ron Regan where he also sold furniture, floor coverings and white goods. He use to allow people to purchase on a three month payoff system interest free which allowed a lot of the immigrants who worked on the mines to get furniture and pay it off. Many folk have told me their stories over the years and how their parents were able to purchase things from my Dad and pay them off. It is lovely to hear these stories.

In the late 60's Frank opened up Gift and Shoe stores in Kambalda East. He had these stores for many years along with his two stores in Kalgoorlie and Boulder. Norm and Ron had left the goldfields by this time and Frank ran the business on his own. He also opened a furniture shop in the South Kalgoorlie Shopping area opposite the Drive-in. Frank was a keen golfer and bowler. He also played a lot of cricket in his early years. Both he and Muriel played bowls and golf. He was very active in the Kalgoorlie Rotary Club and was President of the club in 19... They hosted many Exchange Students from all parts of the world and also visited them in their home countries later. Frank was awarded the Paul Harris Fellow which is the highest award a Rotarian can receive.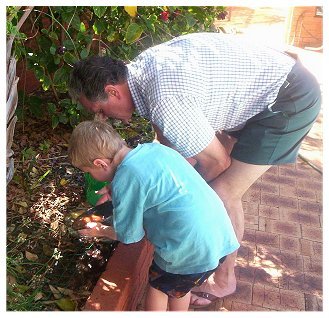 All through his life on the goldfields Frank went prospecting on weekends and sometimes for a week or two when mates came from the city to have a go. Not every weekend as his golf was on weekends but he did spend a lot of time in the bush. He did very well from his prospecting putting most of his money back into his business and expanding. He travelled all over the middle section of the state prospecting, to places like Siberia, Niagara, Payne's Find, Eneabba to name a few. Dad taught me to drive very young and he use to allow me to drive his ute on dirt tracks and he would walk along side the ute picking up rocks that he would mark and then dolly and pan them off when at home. He always did this in the same spot and if I wanted to show someone how to pan off I would take some of the dirt from that spot and would always get some colours. Here is a photo of Frank and Muriel's youngest Great Grandson Riely learning to pan off with a family friend Don. Don made sure Riely found some gold. At different times Frank held the lease over the Son's of Gwalia Mine and also held a lease on the famous Goldern Mile which is now in the middle of the Superpit. Frank passed away on one of his mining leases north of Kalgoorlie, surrounded by his prospecting mates.





16/07/1914 - 11/09/1985 Leslie Howard Bray married 1940 Eugenia (Jean) Agnes Sartori born 1918.


Les and Jean pictured here in January 1971 with youngest son Cliff, baby grandson Brendan, Dora and Gertrude. Les and Jean lived most of their married life in Merredin, WA. They often took the children to Bunbury for camping holidays. Bunbury was a very small coastal town then. Les worked as an electrician with the State Electricity Department in Merredin. We could never work out how he managed as he was coloured blind as was his brother Frank, which we have recently found out. Les and Jean raised their children in Merredin and finally retired to Pambula Beach in NSW. Les died in Exmouth WA, was cremated at Karratta Cemetery in Perth WA and his memorial plaque (listing him as having served in the RAAF during World War II) is now in Canberra ACT.

1940 - 1957

Frank Bray and Muriel (Williams) Bray



Leslie Bray and Jean (Sartori) Bray





Home.